my trip north was a bit different than i expected. the unusually warm weather in Fairbanks had me believing there would be more life on the highway this weekend. it didn't take much driving to find a much more hostile Alaska, the kind we are used too, with much snow, wind, and no sun.
my quest to find interesting characters on my favorite stretch of road was fruitless, but the magic of the Dalton was enough. no tourists, hunters, floaters, mountaineers, motorcyclists, or biologists...no interesting characters. just me and the dogs.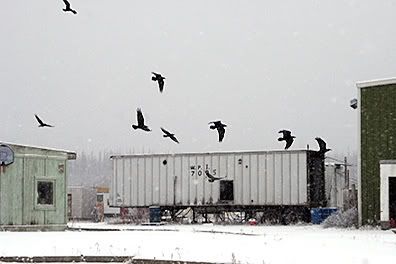 the ravens were the only customers at the crossing today.
target practice
thick fog in the Yukon River valley