i guess i'm surprised it doesn't happen more often. as i continued work on my series around downtown today i was questioned by a women that felt threatened by my presence in her neighborhood. this is the first time it's happened in the year or so that i've been working on this project.
most people i bump into are genuinely interested in what i'm doing i find. i'm not one to shy away from a conversation, and some have resulted in acceptable portraits, and at least good talk. i guess the question of intrusion doesn't register with me, because i don't feel the least bit uneasy about what i'm doing. i walk, from my apartment, to capture each image for the series- i feel like my destinations are extensions of my own neighborhood. it's not about drivebys. it's about connecting to this place that i'm trying to understand more intimately. this is my home, and love the photos or not, it's my subject.
this afternoon, however, one particular women was having none of it. resplendent in her robe and pointing finger she demanded to know who i was and what i was doing making photos of her neighbors private property. did i have permission? she threatened to call the cops. she raised her voice. she made accusations. she beat down her neighbors door to report me. the jig (whatever the jig was) was up it seemed.
i'm quite certain that the cops were dispatched- probably combing the streets as i write this. APB for the shifty guy with the camera! it was a good walk, and good photos were made none the less. as for the photo in question- the private property...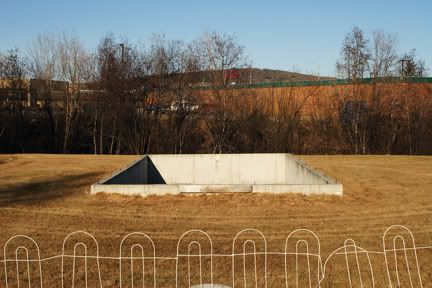 irony is not lost
listening to
The Tragically Hip