the truckers own the Dalton, or
the
haul road
, as they call it. built in 1974, the road (whichever name you prefer) was employed for getting supplies to Deadhorse and the oil fields on the North Slope, and was closed to pleasure traffic until the mid 90's . only 200 vehicles a day, at best, pass through this 414 mile corridor in the summer months.
mile 175, the trucker room at Coldfoot Camp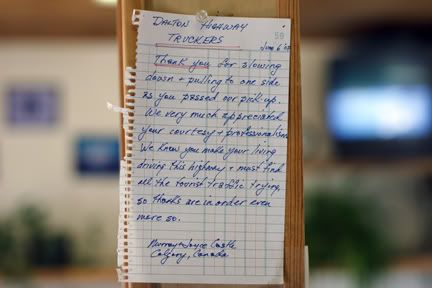 "Dalton Highway Truckers,
Thank you for slowing down
& pulling to one side
as you passed our pick-up.
We very much appreciated
your courtesy & professionalism.
We know you make your living
driving this highway & must find
all the tourist traffic trying,
so thanks are in order even
more so"
listening to
Dinosaur Jr.