hanging at the styley ramada inn in seattle. definitely a different scene (worse) than the university district. fast food and strip malls predominate the scene. i miss the cheap tacos and magazine store, but i'll get over it. this means that dea is out of the hospital, however, and doing well- this is most important.
pissing rain all day so far. got a chance to shoot photos of jessica before she left this morning. that damn hat.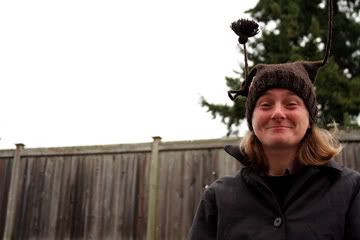 it was dark this morning. had to run 800 at 2+ stops. pleased with the capture, if not a little grainy. upped the contrast and saturation in post.