i'm finally getting back into a groove after a quick trip to valdez this past weekend. it's a long drive at about seven hours, but the kayak trip to shoup glacier was well worth it. we experienced rain, sun, sea otters, bald eagles preying on fish, curious loons, calm waters, and a desolate beach to camp on.
i've been craving some serious city time as of late, but the time spent on the water nudged me back into the moment. small town living can be difficult for me at times, but the benefits that it affords me at this stage are priceless.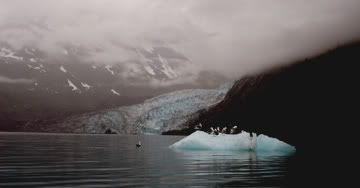 all for now. i'll post more glacier abstracts later in the week.
listening to
nick drake